Blue Hoopskirt Dress - Teal Ballgown - Blue Summer Dress - Valerie's Wedding Dress - My Wedding Dress - Steampunk Gown - Cybertech Gown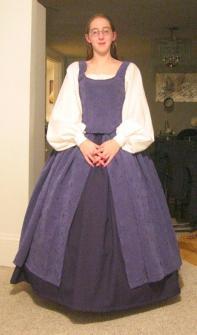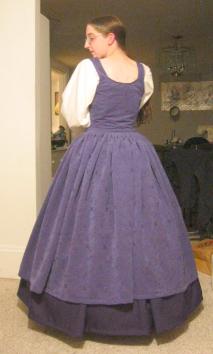 The Blue Dress
I've had a great desire to make a hoop skirted dress for a number of years now, and finally brought myself to do the research and buy the materials. It was actually a lot of fun to make, and took about two months of my evenings and weekends. It's incredibly fun to dance in, and even just walk around.
The whole ensemble is composed of 6 layers. First, a chemise with hand-pleated neckline and sleeves (the sleeves have two sets of buttons so I can wear them at my wrist or elbow), over which goes the corset. This is the only piece I used a pattern for (purchased from Laughing Moon Mercantile). Over this I put on the hoop skirt itself, followed by a petticoat to help the hoops not show through to the skirt layers. I have an underskirt for added bulk and accent color in the front/hem. The top layer is the full dress, whose skirt and bodice are stitched together at the waist. The chemise shows through in the sleeves and neckline. Both skirts (not the petticoat or hoop) are cartridge pleated. I have discovered the wonders of how to bring four yards of fabric to fit a 28" waist.
This dress was not intended to be period accurate (it zippers up the side!) . I took from styles I liked here and there, and added some touches out of my head. And I hope to make a new one within the next year (luckily I don't have to make another hoopskirt or corset) .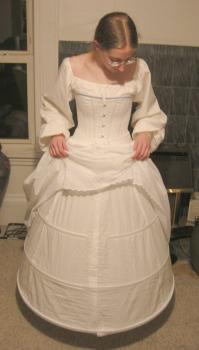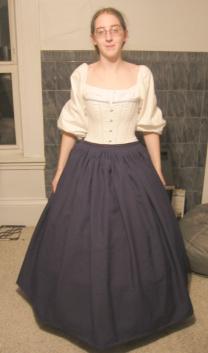 Hop over to the "Other" section to see the mask I later made to accompany this dress.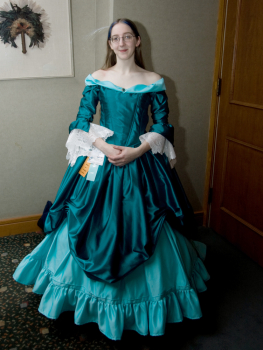 The Teal Ballgown
I tried my hand at a second hoop skirt for Arisia 2008. It took longer than the last, due to there being much more detail. I also think I will need a dressform if I want to keep doing this (which I do!) to make bodice-making easier. I had to scrap the design for this one at least once before the final product succeeded. I used my corset, hoops and petticoat from my previous dress, and added a new undershirt and a bumroll.
I tried box pleating the overskirt this time for a different look than the cartridge pleats. It ended up looking different from what I expected (the pleats unfurled in a particular way), which was due both to me not ironing them down, and also from the type of fabric I was using. I'de like to try the look again with cotton, ironed. This skirt has pocket slits on both sides. Under the dress I'm wearing pockets that tie on at the waist. It will be easier to include pocket slits in all my skirts (rather than full pockets), and not have to shuffle things around in the pockets from dress to dress. I think I need another petticoat underneath to help the skirt bell out more, rather than hang, though.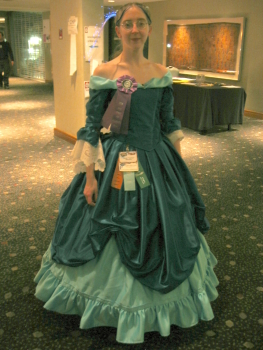 The neckline gave me hell. I had no real plan on how to achieve what I drew in my original sketch, and was still completing it the day of the con. It worked out alright, although it twists slightly. I bought doilies for my sleeves, and cut holes in them slightly off-center so they hung further in the back than the front. The green oversleeve did not turn out how I was planning, due to being cut from a straight piece rather than a curved one (something I may replace someday, or try again on a new dress).
Eric in the Elevator, the Fan Performer Guest of Honor, liked my dress so much that he snuck a Hall Costume Award ribbon on me while we were having our photo taken. The Northern Light's Costumers' Guild gave me a ribbon this year as well. Hurrah!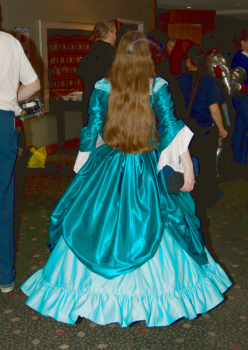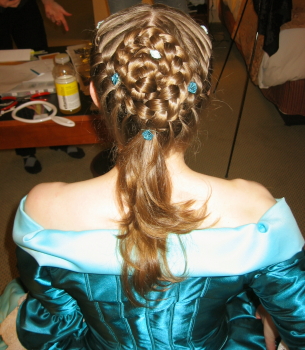 I had my hair done up at Spicy Braids in order to show off the pleating that goes down the back of the dress. I somehow didn't get any photos of the pleats, though. So I'll get one later. I tried to do a robe a l'anglais back, with the pleats running from the neckline all down the back (one piece of fabric, rather than the bodice being separate from the skirt).
The Summer Dress
I needed a new dress to wear to my fiancee's uncle's wedding. I shopped and shopped, but tend not to appreciate modern fashion, and so I couldn't find anything remotely like what I was looking for in any store. So I bought a pattern and some lightweight fabric, and did something just for me. I altered the pattern slightly, and hand added trim to both the hem and neckline.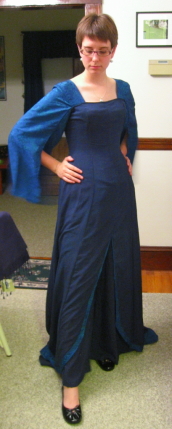 Valerie's Wedding Dress
A friend of mine commissioned me to make her wedding dress for her (among other things).
She began by giving me a mock-up for how it could look. After some planning and brainstorming, we decided against the waistband and top-trim. The pattern I had already bought for my summer dress looked as if it would work well for the design (with eight panels around, it would form fit well, give the correct neckline, and easily allow for the split up the front), so I tried out a mock from cotton. It worked as well as I'd hoped, and we went on to pick out fabrics and trim. It is made from a few different types of silk, so it drapes very well (especially the sleeves, as you can see in this image where our arms are raised and we have funny faces). The front is high enough to not get tripped over, and the loose pants underneath looks almost like an underskirt. (She could also drape the skirt over her arm.)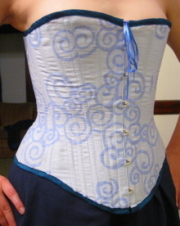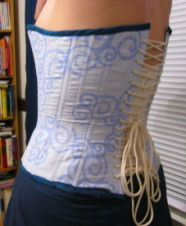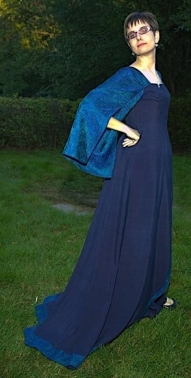 My friend opted to wear a corset under it to accentuate her shape, so I used the pattern I have already for that, too, and added the optional top-ribbon to curve the top a bit more than mine. She picked a fabric with a very nice pattern, and with extra yardage I lined up the swirls across the ten panels as best I could. Although nobody really saw it at the wedding, she'll be able to show it off in the future.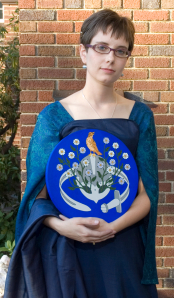 I also created a coat-of-arms roundel for their union, pictured with the bride.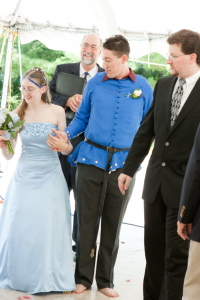 My Wedding Dress
Of course I would make my own wedding dress!

I started out by making some "test dresses" to see if I could make certain elements work before putting them together. One was a v-shaped lace-up back, and the other was simply a strapless dress that wouldn't fall off me. Having actually only worked with spring-steel and sprial-steel before, this was my first foray into plastic boning. I made both out of cheap $1.99/yd fabric, like one does for testing patterns, and I ended up loving them and still wear them. (I hemmed the strapless one a little bit shorter than my ankles.)

The lace-up back worked great. I was amused at needing to be laced in to my wedding dress as all of the usual clothing I make I can put on and take off on my own, even my elaborate ballgowns.
I also took up embroidery. It's something I had never done before but I thought it would be appropriate if I was going though all the traditional effort of making my own wedding dress. I looked up some tutorials and tried a few stitches on some scrap fabric and figured it was do-able, then I started sketching out designs. Originally I had a crazy elaborate plan to embroider the hemline as well, but embroidering is a long a tedious process.... it took a long time. I traced the design onto the fabric using disappearing ink a bit at a time. I've got a matching shawl I'm working I can post photos of eventually, too.
Not shown is my first tulle crinoline-petticoat which is unerneath.
I haven't worn the dress since my wedding, mainly because I spilled some water down the front of the silk charmeuse later that night and it ruined the texture (man, silk charmeuse is a pain - prolly won't ever work with it again). I've since washed it to even the texture. But in addition to lifting the hemline someday (part due to shrinkage of the silk layer higher than the cotton lining, and partially from stains), I'd like to install a zipper on a side-seam of the dress so I can easily wear it again without needing to be laced in.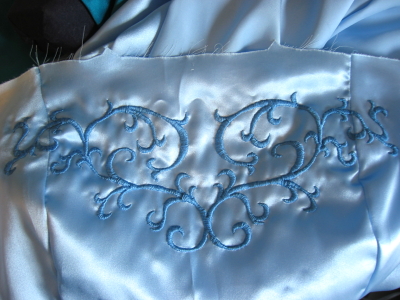 My Steampunk Balldown
I started making my Steampunk gown soon after my wedding, I think, but ran into some stumbling blocks in its construction around when Steampunk was getting to be totally overdone and it ended up being shoved in the closet for about two years. Mostly I was having trouble putting holes in the springsteel hoop (I killed some drill bits as well as the steel punch) and was being aggravated by some other fiddly things.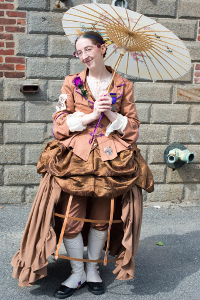 I picked this project back up in the summer of 2013 in order to march in a parade with a band I really like at a music festival (Emperor Norton's Stationary Marching band at HONK). Of all my dresses, this one has the most pieces and took the most work because of them. (There are even a few bits in my notes I haven't finished yet, and may eventually do.) I had originally come up with some sketches that centered around a fancy jacket, and a swept up skirt front that would reveal a very "industrial" hoop design (and nifty old fashioned pants and spats/gaiters) and then just ran with the other design elements. I am very proud of the little things in this one.
I spray painted the hoop-steel copper (because Krylon doesn't do brass in their Fusion color line), and riveted it to vertical leather strips. (Ok, my husband did the riveting, but only because I was super short on time in my desire to get this ready for an event - I do know how to rivet)
Fabric aquisition was the other major stumbling block, since I had some very specific ideas in terms of both color and texture, which somehow I couldn't find. I ended up having to dye twill for the jacket and pants, and in the end I had to settle for "close" in color to what was in my head and work with it. Some of my purple trims don't quite match, because I didn't have time to make my own piping.

I quite enjoy how all the layers work together. My pants have purple stripes down the sides to match the coat piping and lining; the gaiters snap up the side, have leather straps and buckles under my shoes, and tie at the top with purple ribbon; I did find two perfect skirt fabrics, one of which matches my vest which most people can't see, but has some delicate pattern matching across the four front panels (and it has usable pockets).
I merged two patterns together to make the coat (top and bottom) and modifyed the sleeves. I learned how to line a coat, which is a major pain. And I made a lot of mocks to get the flared folds to sit just right. The shirt was bought for me, and incorporated into the costume when I didn't have time to make one. The neckline wasn't how I imagined, but it works too well for me to bother changing it now, and I ended up dying the gaiters in tea to match.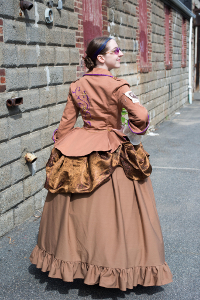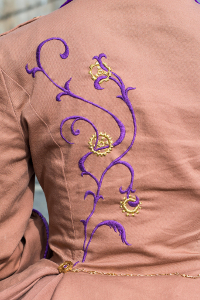 And once again, I took up embroidery.
I have one thing to say about this: I don't get as many oohs and ahhs and I expect sometimes, because people think it is machine done and don't take a second look at it.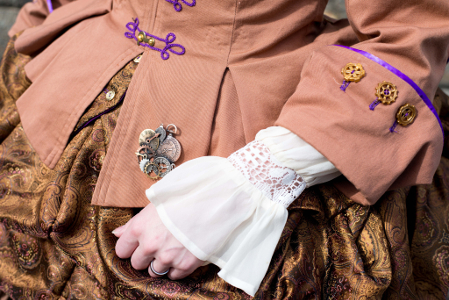 I embellished the jacket a ton even aside from the embroidery. I designed and ordered laser-cut buttons and painted them to seem brassish (I used nailpolish, but later found some nicer paint I wish I'd known about). I braided and sewed on frogs around old fashioned brass clasps to use for the front closures.

I also modified a crazy nifty pair of glasses. I bought two cheap pairs of glasses online and merged them together (I guess this would be the third major stumbling block, since I needed an epiphany to figure out the hinge mechanism, and ended up figuring out one far simpler and elegant than my previous scribbles). The clear lenses are prescription, and the purple ones not. The purple pieces each can twist upward and down to the sides, and then fold back against the arms of the glasses.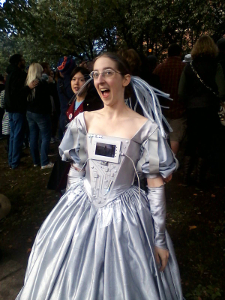 After finishing the Steampunk Dress, I had resolved to refocus my time on painting Master Copies, and set aside dressmaking for a bit. But then I was invited as the Artist/Costumer Guest of Honor at Pi-Con. It was an honor for which I felt it was fitting to go ahead and create for the convention the next dress that was already rattling around in my head.
The design of this one began entirely with the thought: what if I made paned sleeves [a style from the 16th and 17th centuries] with ribbon cables in place of fabric ribbon? Everything else just spiraled outward from there, as I picked bits and pieces of historic designs and figured out what else I could make them out of to be sort of cyberpunkish. The next element was the stomacher, which needed to be a circuit board (originally intended to be cut from a real one). The peplum at the bottom of the bodice is made from clear vinyl. I find myself amused as some of the elements I ended up using. I'm not really into puffy sleeves, for one, and especially not the swoopy trim near the bottom of the skirt, but the elements worked really well with this design and I felt I just had to use them. As I neared completion, the dress never quite encapsulated the "punk" of cyberpunk, and ended up being named Cybertech instead.
I had originally started looking into how to make the squares at the bottom of the skirt each be little controllable screens, but the cost and digital involvement ended up being more than I could feasibly do, so I focused on installing a screen on the stomacher, instead. My stipulations were that it would be able to show some animations, primarily static, and nerdy things like NyanCat, and videogame playthoughs. It turned out that the easiest way to accomplish the effects I wanted was to use a cell phone, which opened up a whole new direction of interactivity.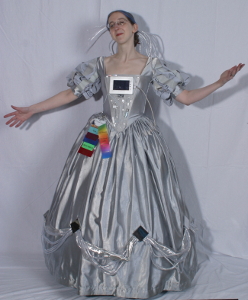 I also wanted LEDs incorporated into the circuitboard, that could blink various patterns. I ended up getting a lot of help from Jimmy at the Artisan's Asylum's Free Circuit Hacking on Wednesday nights. I also have some touch-sensitive LEDs up the spine of the bodice, thanks to a gift certificate for ThinkGeek.
Over the years, a couple of forms of undercarriage lighting have been installed in the hoop that I wear under most of my dresses. They look great with the Teal Gown, and even better under the Cybertech Dress. They make me look like I'm floating. Unfortunately, these lights, as well as the stomacher LEDs, were out of commission for the actual convention, much to my dismay for the unveiling of this project. (And a rough start to getting the cell phone wifi-enabled led to some additional silliness in getting the dress's additional eyecandy working.) They've since been fixed.
While not as time-consuming to make as my Steampunk Gown, this one invoked the comment that my dresses are "fractally complex", which thrills me. As you look closer and closer you find new depths of interest. Like the fact that I printed a circuit-board damask pattern on the skirt fabric (using laser cut tiling pieces that I spray painted).
Clearly, I need a video of this one.