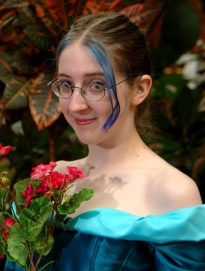 Contact the Artist by E-Mail:
For Business Purposes:
For Personal Purposes:
Many of the original paintings on this site are available for sale. Contact me if you are interested in purchasing. Some prints are available at Etsy.
A bit about me:
I am a lover of drawing, painting, fantasy, science fiction, sewing, and animation.
I strive to create imagery that sparks my viewers' imaginations, and inspires stories. I lean towards cultivating a certain amount of ambiguity in what might be going on and who the characters could be, reveling in the escapism involved in fantasy illustration and storytelling.
I live in the greater Boston area with my husband and two cats. I manage an art store by day, and paint and sew in my spare time.
Why "Tashari"? Back in the '90s when internet "handles" were "cool", I wanted to come up with one that was original. I made up the name (only to later learn it's actually a real name). It stuck, in part because I had a friends-circle with multiple Sarahs, and so having nicknames made it easier to differentiate.
~ Sarah "Tashari" Morrison