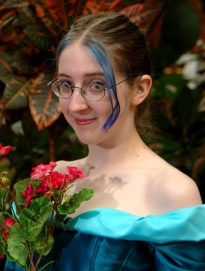 Contact the Artist by E-Mail:
For Business Purposes:
For Personal Purposes:
Many of the original paintings on this site are available for sale. Contact me if you are interested in purchasing. Some prints are available at Etsy.
A bit about me:
I live in the greater Boston area with my husband and two cats. I manage an art store by day, and paint and sew in my spare time. My long term plan is to continue studying fine art, and eventually take classes in illustration and portrait painting which were unavailable at my college. I aspire to illustrate fantasy novel covers and childrens' books.
I am a lover of drawing, painting, fantasy, science fiction, sewing, and animation.
One thing I enjoy most about creating and showing the fantasy art that I do, is knowing that a particular piece speaks to a particular viewer, and inspires any sort of story in their mind.
Why "Tashari"? Back in the '90s when internet "handles" were "cool", I wanted to come up with one that was original. I made up the name (only to later learn it's actually a real name). It stuck, in part because I had a friends-circle with multiple Sarahs, and so having nicknames made it easier to differentiate.
~ Sarah "Tashari" Morrison