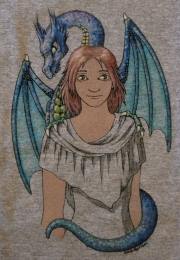 I've been doing more silkscreening lately, as well as combination of silkscreening and hand painting. Both of these shirts I have available on my Etsy store, and I'm hoping to do more variations of the colored-in dragon design. If you're interested in some custom colors, let me know.
I wasn't sure what sort of effect I'de get when I started combining a wet painting brush with freshly applied fabric markers, but it resulted in something that looks watercolored, and is a lot of fun. Staying in the lines is proving a little challenging in areas, as the water wants to bleed, but I'm learning.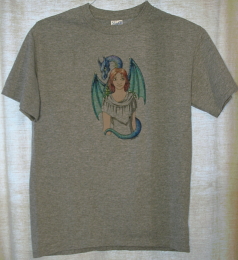 What's a crafty aunt to make for her nephews? Fun t-shirts!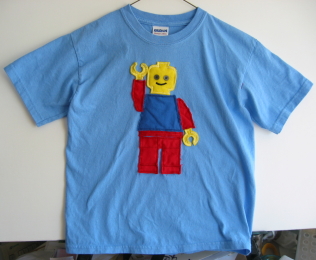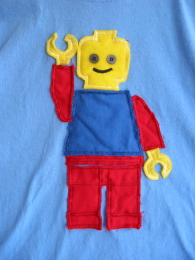 Isaac is super into Legos (which I love too), so he got a lego man. I thought it a good follow-up to the card I gave him last summer.
My nephew Teo likes cement mixers. My parents wanted to give him a shirt with bright colors, his name (since you can't find shirts with his name on it), and a cement mixer. I was in silkscreen and fabric marker mode when I did this one.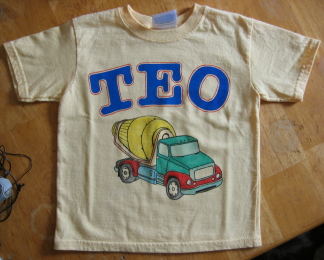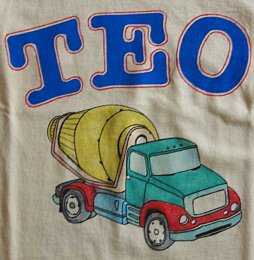 I figured he could do with another name-printed shirt, and some more bright colors. Since I was in applique mode, I tried silkscreening my cat-design onto a fuzzy fabric, and sewing it all together.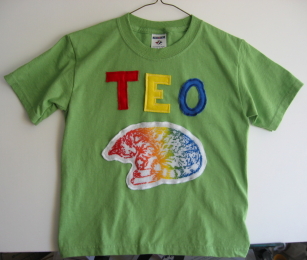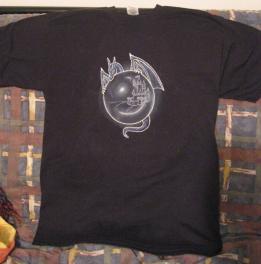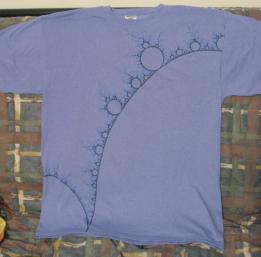 I've done a few custom t-shirt art for friends as gifts. The dragon on the left is done mostly by painting. I made some half-failed attempts at stenciling and spraying a diluted white paint in with a mini spray bottle to get the glowing, misty effect. Most of it soaked through and into my backing board, or puddled under the stencil. Next time, less water. Dark shirts are just more difficult in general. I had to go over all the outlines extra with the opaque pen to get them to stay in. Some of this one is done in fabric paints, and some with Golden's GAC 900 (fabric painting medium) with acrylics.
The Mandelbrot section was all done in fabric marker. Much more control. Just blue and black. I spent a lot of time studying mandelbrot images to get the feel for the pattern, and it became easier and easier as I went along (at least until it just got to tiny to deal with). The left curve extends onto the back a bit.