Cardmaking
I've quite enjoyed the chances I've had to make linoleum printed cards, either for special occasions or just for fun. Please contact me if you are interested in commissioning me to produce some for you. Here are examples of ones I've done.
Wedding Invitations
There was no question about me doing my own wedding invitations. I chose a photograph of my husband (then fiancee) and I that had been taken of us together at another friend's wedding, and used it as a reference. I added a bit of art nouveau flair, and used it as the front of the cards for invitations. After testing prints that were solidly inked against ones that were more loosely inked (which gave them a mottled texture), we decided to do up the whole run with the mottled effect, which was felt to give the cards a more handmade look.
For the text inside, I was lucky enough to have access to a laser cutter to do the text. I've done hand carved text before (also shown below, for wedding invitations for friends), but I wanted a font more flourishy than I could carve by hand. I may soon have access to a laser cutter again, so both forms of text printing will be available for cards I do in the future.
I watercolored a post-wedding Thank-You card that I made digital reproductions of.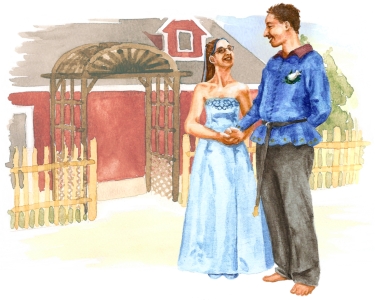 If you noticed that our invitations said "renewal of vows", that's because we officiated our marriage a year before our actual wedding. I used a [somewhat modified] photo from that small event as our Save-The-Date cards.
Other Cards
One thing I like about handmade cards is that they are easily framed as art by the recipient.
I've also taken to playing around with chine colle, a technique involving pieces of lightweight paper such as rice paper which have had a water-activated glue applied to the back. When placed (glue-side-up) on an inked block, they are transfered to the dampened sheet of paper that becomes the final print.